MENTOR TRAINING PROGRAM & HOMEWORK SESSIONS
As a highly experienced real estate agent with a proven track record of success in selling expired listings, I understand the unique challenges and opportunities that come with relisting a property. In our experience we have found that majority of real estate agents lack the skills and resources to be able to properly re-launch your home. WE look forward to share with you how we RE-Energize your listing. Re-Position, RE-Target & RE-Engage buyers!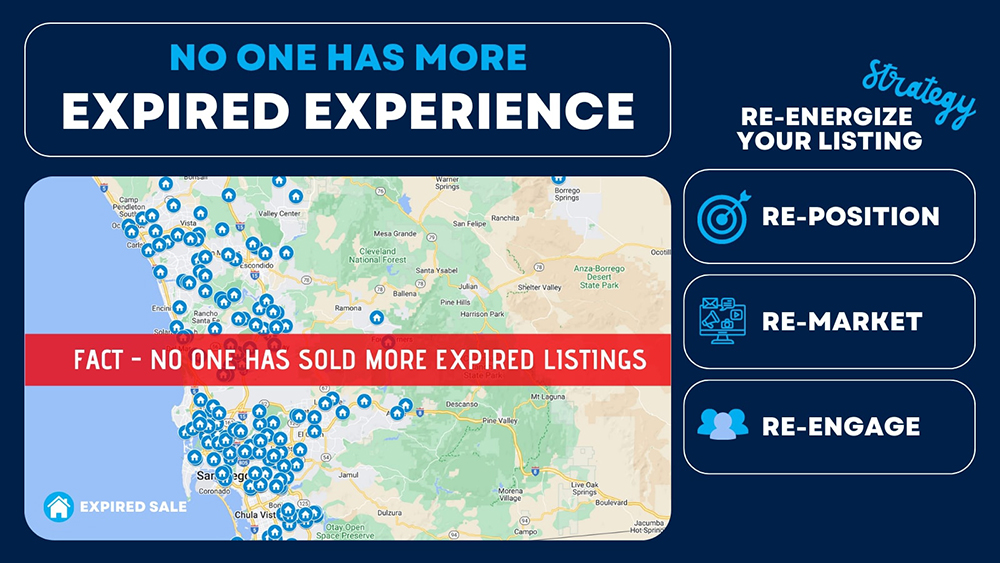 I am confident that by working together and utilizing my extensive experience and expertise, we can successfully sell your home for the highest possible price.
When a listing expires, it can be a frustrating and disappointing experience for a seller. Many of our clients have found themselves self-doubting the value of their home. Questioning themselves, "why didn't the buyers see the beauty in our home the way we did when we purchased it."
I approach each expired listing with empathy and understanding, and I am confident in my ability to effectively market and sell your property. My experience allows me to understand the market trends and identify the key selling points of your property.
Our experience has shown us that your home needs 3 strategies to RE-Energize your listing when it comes back to the market. 1) Re-Position – Bring back leverage. 2) RE-Target – Provide a large target audience of buyers, both new buyers and more importantly buyers who previously passed on your home.
3) RE-Engage – Properly tell your home's story, the reason you fell in love with the home.
To start, we need to bring back leverage. Buyers tend to classify homes that have not sold as "something must be wrong with it". Either they aren't motivated to see the home or they want to submit a low-ball offer. Our job is to take the mindset of "something wrong with the home" and turn it into " a missed opportunity"
Next, we use marketing and other exclusive tools that we process to garner buyers. Not just through the methods you have already used when previously listed, professional photos, video, social media, etc. Don't get me wrong, all those marketing tools are important, but they are not enough the second time around. Our experience in re-listing expired properties has allowed us to use a process to generate a large audience. It is not uncommon that we will have 15-50 groups though in the first hour of our open house.
Marketing your property effectively is crucial to its success. However, there needs to be more than just marketing. Marketing and other strategies we use will help garner a large target audience of buyers, but once we have that audience it is vital to share your homes story. The details, the upgrades, the features, the things you loved (and will miss) about your home. We are continually shocked about home many sellers are frustrated that their last agent didn't share the "selling points' of their home.
Lastly, will conduct a thorough analysis of your property and the market. This includes evaluating the condition of your home, identifying any potential issues that may have contributed to the listing expiring, and researching comparable sales in the area. With this information, I will present you with a clear and realistic picture of the current market and make a case for re-listing your home with me as your agent.
I have extensive experience in creating comprehensive listings that highlight the key selling points of your home, and I utilize a variety of marketing channels to reach potential buyers. Additionally, I will ensure to stay in regular communication with you, updating you on the progress of the listing and any feedback received from potential buyers.
Lastly, I understand the importance of being flexible and willing to negotiate in the process of selling your home. With my experience, I am able to identify the potential roadblocks and come up with a solution to sell the property. I am committed to working closely with you and being open to compromise in order to build trust and successfully sell your property.
In conclusion, relisting an expired property can be a challenging task, but with my extensive experience and expertise, I am confident that we can successfully sell your home. By conducting a thorough analysis, effectively marketing the property, staying in regular communication, and being flexible and willing to negotiate, we can achieve your real estate goals. We look forward to sharing our experience and ultimately RE-Energizing your listing!